Screenloop Raises $7M for its Hiring Intelligence Platform
that Builds the Best Teams and Removes Unconscious Bias
The seed round was led by Stride VC, alongside Ludlow Ventures, All Iron Ventures, Passion Capital and Paul Forster, Founder of Indeed

Screenloop's hiring intelligence platform is an end-to-end solution to enhance the experience for candidates, interviewers and businesses - ensuring companies can hire high-quality talent at scale

95 per cent of businesses admit to making bad hiring decisions and 80 per cent of employee turnover is due to these poor decisions

Screenloop uses data and artificial intelligence (AI) to identify gaps in the recruitment process, leverage candidate feedback, and provide real-time coaching for interviewers to conduct better interviews and remove unconscious bias from decision making

Customers include fast-growth tech companies such as TrueLayer, Beamery, Reachdesk and GorillaLogic
Screenloop, the hiring intelligence platform that helps teams hit their recruitment targets faster whilst delivering an enhanced candidate experience, has raised a $7M seed round. The investment was led by Stride VC with participation from Ludlow Ventures, All Iron Ventures, Passion Capital and angel investor Paul Forster, founder of job-seeking platform Indeed.
The new seed round follows an earlier investment of $2.5M in December 2021, bringing the total raised to $9.5M. The latest funding will be used for continued product investment plus research and development, with the goal of delivering a powerful end-to-end hiring intelligence platform. Screenloop will also continue its expansion into the US and new markets. The Screenloop team is growing with key hires being made across sales, marketing and engineering.
Founded in 2021, Screenloop was born from the shared frustrations and poor hiring experiences of its founding team whilst working as senior operators at fast-growth tech businesses - including Stack Overflow, Talkdesk, Revolut, Reachdesk, and ClearScore.
Anton Boner, Co-Founder and Commercial Director, said, "Our team is united in the belief that hiring is inefficient, outdated and unfair to candidates around the world. We have all been hiring managers and candidates, and we know the hiring process is broken. It's difficult to track and measure, meaning there's a lack of insight into what to improve and what to prioritise. Companies struggle to replicate their top performers and the cost of a failed hire is over $180,0001."
Data from Glassdoor claims that 95 per cent of businesses have admitted to making bad hiring decisions2 and research from Yale found that 30 per cent of interviewers typically make their decision on a candidate in the first five minutes of an interview3.
Anton, continued, "Screenloop reduces the likelihood of companies making a bad hire whilst also helping remove unconscious bias from the recruitment process. We want to ensure candidates have an amazing interview experience with every company and are treated fairly. We also want to empower companies with data, insights and actions to be able to make the best hiring decisions all the time."
Screenloop's end-to-end hiring intelligence platform currently includes four product solutions for businesses. 'Pulse' enables automated candidate feedback on the organisation's recruitment processes and uses it to identify and provide tailored recommendations for improvement using AI - enabling businesses to hit their hiring goals faster. One of Screenloops customers was able to reduce candidate drop-off by 60 per cent by leveraging the insight to improve their hiring process.
'Interview training', provides modern shadowing and real-time coaching through AI to enable interviewers to ask better questions as well as remove subjectiveness and unconscious bias in decision making. Screenloop's 'Interview Intelligence' allows businesses to collaborate quicker and make decisions faster. The solution enabled one Screenloop customer to hire the top candidates in their process faster with a decrease of 26% in time to offer.
Finally, 'Success' is Screenloop's tech-enabled take on the highly manual referencing process which is outdated and inefficient. Success allows companies to understand more about the soft skills of their new hires and completes the reference process in less than 24 hours. The technology allows new hires to contribute faster in their new position and reduces the likelihood of failed probations. For one customer 'Success' saved its talent team one week per month to focus on other activities, with three hours saved per new hire.
Screenloop has already received feedback from 100,000 candidates globally within 12 weeks and analysed over 1,000,000 minutes of interviews. The platform also reduces the average time to hire by three days. Screenloop is operating in Europe and the US, with an initial focus on fast-growth tech companies. Current customers include TrueLayer, Beamery, Reachdesk and GorillaLogic.
Jay Radia, Co-Founder and Chair of Screenloop, added, "We have built a platform that can help all businesses to achieve their hiring goals faster by creating a world-class candidate experience. 80 per cent of employee turnover is due to bad hiring decisions4 which we help businesses avoid through our platform. By focusing on experience, companies can attract, hire and retain the best candidates around and build a more diverse team at the same time."
Gabbi Cahane, Partner at Stride VC, said, "From the moment we met the team, we could see they had a unique combination of vision, experience and technical chops to pull off such an ambitious project. In the war for talent, when candidates' expectations are growing ever higher, it's fundamental that companies can provide them with an experience that is empowering, engaging and effective. Whether they're hiring to grow or to fill the gaps, they need a recruitment process that's fit for purpose, and that's exactly where Sceenloop becomes indispensable."
ENDS
Notes to Editors
1 Hiring mistakes are costing UK businesses billions each year - Recruitment & Employment Confederation
2 Glassdoor Report - The True Cost of a Bad Hire
3 Yale Exposes New Bias That Judges Interviewees Within First Few Seconds Of Interview
4 Harvard Business Review data - Maximising your return on people
Press Contact:
CEW Communications for Screenloop
cathy@cewcomms.com / +44 (0)7791 232834
Customer Quotes
'Game changing platform that will be an asset to any talent acquisition team' - Reachdesk
'Saved a lot of time and improved our hiring process' - AssemblyAI
'Fairer and more consistent hiring process' - Banked
About Screenloop
Screenloop provides an end-to-end hiring intelligence platform to enable companies to hire high-quality talent and provide an enhanced candidate experience.
The company was founded by Anton Boner, Jay Radia, João Leal, Nuno Saldanha and Rodrigo Santos. Screenloop is headquartered in London, with a team of 24 spread across New York, Portugal and India.
Website: https://www.screenloop.com
LinkedIn: https://www.linkedin.com/company/screenloop/
About Stride VC
Stride is a London based Seed fund that combines an investor mindset with an operator skillset. We back 'Dissenters' - founders who set out to build brands, products and platforms that reshape entire industries, categories, organisations and experiences.
About Ludlow Ventures
Ludlow Ventures is a Detroit based early seed-stage venture capital fund. The team believes in authentic friendships that go beyond work. Successful companies rely on trust and there is no greater way to foster that than by becoming real friends. Ludlow Ventures invests with insane conviction, moving quickly and backing teams when others think it's too early.
About Passion Capital
Passion Capital was established in 2011 to bring founder-friendly operationally-minded venture investing to the UK and Europe. Founded by former entrepreneurs instead of traditional asset fund managers, Passion was one of the first operator-led dedicated early-stage venture funds in Europe. Additionally, it was the first in the world to publish and use a plain English language term sheet and not to charge its portfolio companies any of its own legal fees, the first in Europe to publish fund infographics and to host joint office hours (for pitching sessions), and the first to manage a coworking office space.
Over the last decade the team has invested in some of the strongest European founders including those from GoCardless, Monzo Bank, Lendable, Marshmallow, Tide Banking, Digital Shadows, Smarkets, Tray.io, urban, Spotahome, Butternut Box, Nested, PolyAI, Causal, Fertifa, Screenloop and many more.
About All Iron Ventures
All Iron Ventures partners up with bold founders promoting innovative startups. We mainly invest in the early stages of European companies that aspire to reshape the future of both consumers and enterprises through technology. Based in Bilbao, Spain, and with approximately €140Mn under management, All Iron Ventures was promoted by the founders of Ticketbis, a global marketplace sold to eBay in 2016, in what is one of the main success stories in Spain's startup ecosystem.
About the author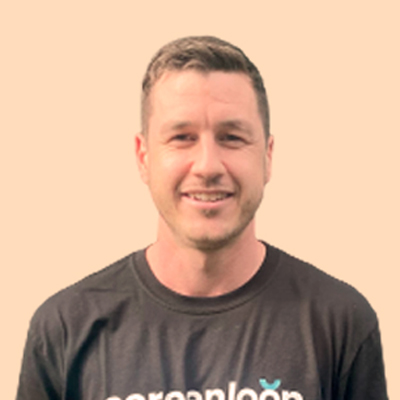 Anton Boner
Co-Founder/ Commercial Director
If you would like to find out more about how Screenloop can remove unconscious bias from interviews and arm your team with data to make better hiring decisions then give me a shout on:
anton@screenloop.com